J&H Aerospace is pleased to announce the successful completion of the new Spinster DLG, a super low-tech DLG that will cost about $30 to build and serves as an excellent introduction to DLG/F3K. It only takes a couple of evenings to build and has a removable wing so you can easily transport it to the flying field!
You will need the following materials to build this model:
1 sheet of Adams foam board
1 sheet of 3/32″x3″x36″ balsa, preferably C-grain
1 carbon fiber arrow shaft or Goodwinds.com boom, at least 32″ long (NOT a pultruded boom–those are too heavy).
4 micro servos; the Hextronic/Towerpro 9 g analog servos are more than sufficient. Search Ebay for "9g servo" to find the current lowest prices.
1 4+ channel micro receiver. Banggood has reliable dsm2 receivers for $6.
1 round cell Lipo battery (Turnigy 1000 mah is excellent).
1 Jst connector for the battery.
Up to 3 servo extension wires (battery and aileron servos, depending upon length of wires–I only needed a battery extension).
1 small piece of 1/4″ balsa sheet.
1 piece of 1/64″ plywood (5″x5″ is sufficient).
1 piece of 1/32″ plywood (2″x2″ is sufficient).
1 piece of 1/16″ plywood (3″x10″ is sufficient).
1 .070″x.437″x23″ Carbon Rectangle strip from CST.
1 .016″x.118″ Carbon Rectangle strip from CST (at least 5″ long)
30 lb test spiderwire braided fishing line.
1 36″ length of .039 piano wire.
1 small block of blue foam or similar (at least 2″ cube).
1 sheet of computer paper.
Masking tape, packing tape (or Blenderm), CA glue, and hot glue.
While it is possible to fly this model with a 4 channel radio, you will need to fly with a forward CG and use a y connector to slave the ailerons, which will eliminate the flapperon function. DLGs are very mode-sensitive (I use 1/8″ flapperon droop in glide and 45 degrees droop for landing). I recommend at minimum a Spektrum DX6i or equivalent (Flysky i6 may be sufficient with a micro receiver).
Plans are located here: https://drive.google.com/drive/folders/0B9t_4cR6_fI7QjhEdlNYOW1qd3M?usp=sharing
The building guide is located here: https://drive.google.com/open?id=0B9t_4cR6_fI7OWpnQ1czLWZWdWs
Screen shots of the plans showing the parts layout: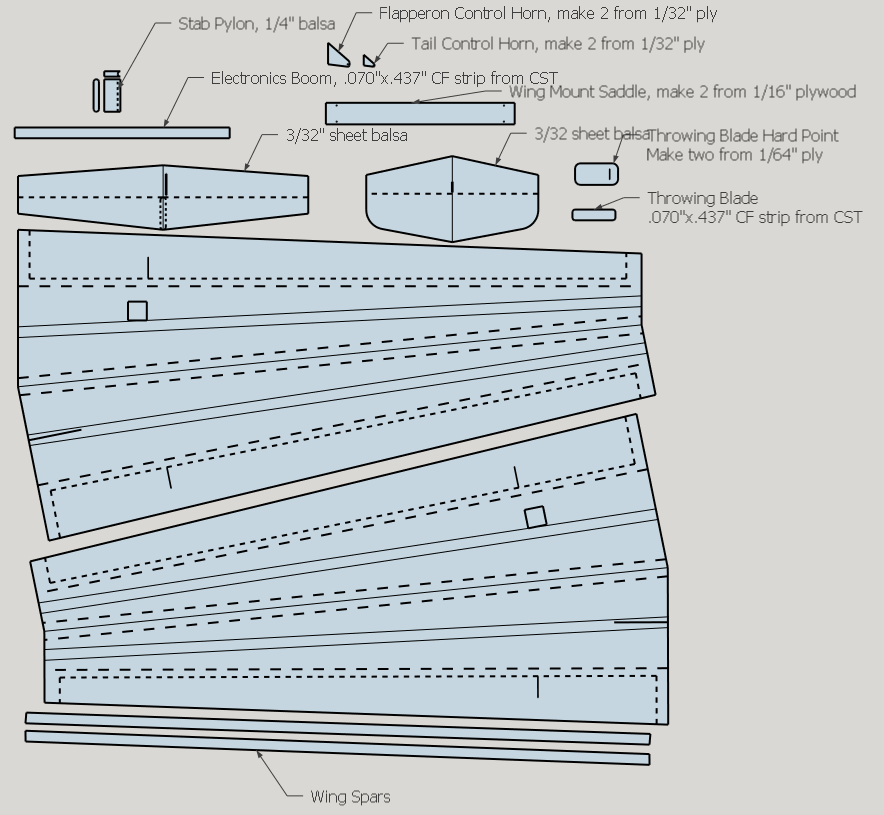 Stay tuned for an upcoming build article at Flitetest.com and please bear in mind that the plans are still sparse on build notes. The article will clear that up, and we will share critical segments of it here. For those wanting a head start, you should begin by watching Nerdnic's speed wing build video, which is very similar to the building methods used for this model.